Nestled in the northeast countryside of Yilan, Taiwan, Jhentea's store has been community mainstay since 1978. Visitors travel from far and wide to taste Jhentea's most exquisite and rare handmade premium tea that is pure and free of any additives. Typical of most mom and pop shops, the business model was built on exceptional product, service and a personal connection. However, after over 30 years in the same location, the thriving business was in need of a facelift.
The design intent was to convey the Jhentea brand and maintain a comfortable, clutter-free environment for tea tastings and customer service while accommodating additional storage and production space within the existing 12'x25' footprint.
Since the footprint was fixed, Fang took advantage of the store's high ceilings as a solution to growing inventory. She designed full height storage walls made of open and closed cubes that either conceal or display product. There are 99 closed boxes which house tremendous amount of tea storage. The 55 open cubes act as product display areas which are backed with a chalkboard surface for a handwritten product description. This personal touch further conveys the idea of a carefully handmade product. The total of 154 boxes are created in different depths that create a layered, undulating plane of display, which is inspired by the tea garden terrain.
The display wall creates a backdrop for the main sculptural feature of the shop; a 15' long x 3' wide solid teak table which Fang found and transformed from an old salvaged tree. The uneven, organic edges of the table further emphasize Jhentea's belief in honoring the natural, and that each tea leaf has its own unique character that comes through in every pure sip. Upon entering the new store, the stress of a congested city, highways and machine-made, mass production melts away and you are embraced by a beautiful, tranquil tea world with a calming spirit and lovingly handmade products. The store is a jewel. We invite you to come in and experience a different tea ceremony experience. Like my mom always said, "Come, sit and have a cup of healthy tea!"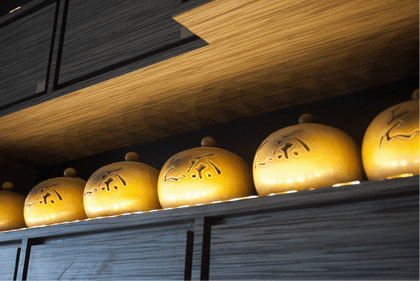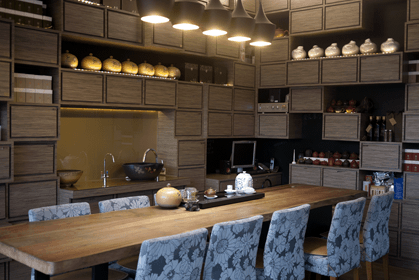 LOCATION Wu lou ken in Ilan, Taiwan .
TEL 1-347-559-1759
EMAIL kuei@jhentea.com

From the founder
Kuei is a registered Architect and LEED AP in New York City. She grew up playing in her family's Tea Garden and helping with tea production. Her passion for sustainable design and architecture led her to redesign the family tea store in 2012. The store has been in the same location since 1978. Her current focus in on designing jhentea's packaging around her sustainability beliefs. From each leaf they pick to every single packaging they use. Creating an unique experience for every sip of jhentea.